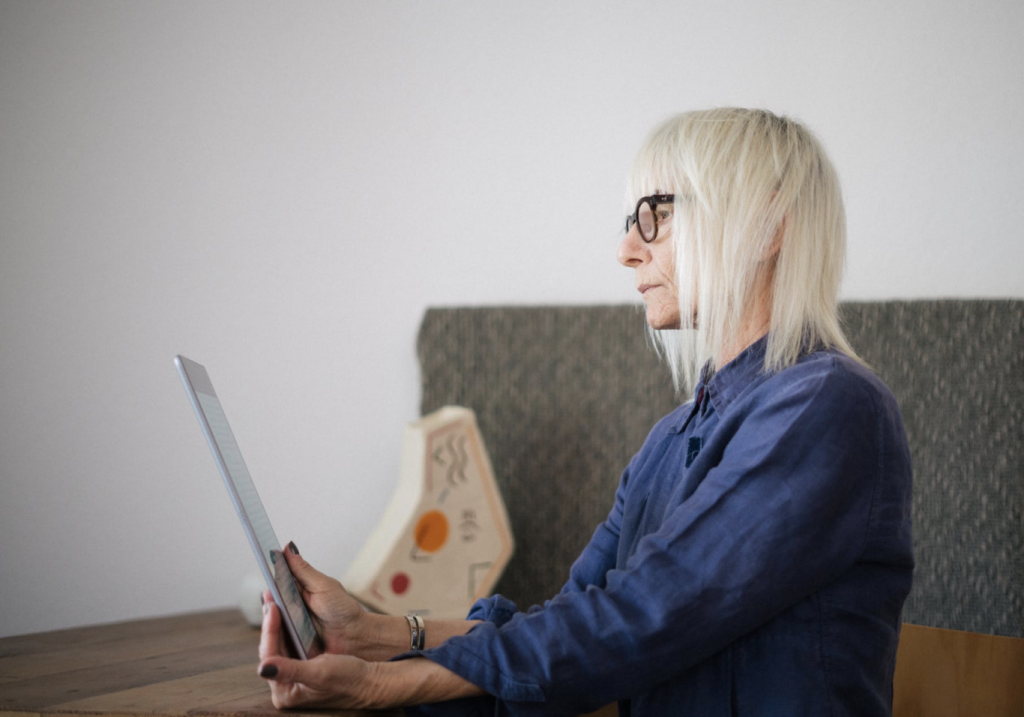 Isolation and loneliness were already serious concerns for seniors, but the outbreak of COVID-19 makes things even worse. Months of restrictions and risks with no end in sight can transform those feelings of loneliness into hopelessness for many older adults. 
This is a challenging time, but it's important to remember that this day and age also brings blessings. If you are currently staying close to home for the sake of your health, think about using tech to safely preserve and restore connections to family and friends through social media and video chat. Here are some tips to help.
Not ready to move into assisted living? Alpha Senior Home Care can provide affordable quality home care for seniors who prefer to live in the comfort of their own homes. (631) 365-0671 or alphaseniorcare@gmail.com.
Most New Devices are Very User-Friendly
If you are ready to start using tech to stay connected to your loved ones and friends from afar, you may be wondering how hard it will be to learn how to use all of your new gadgets. The thing is that most new tech is made to be extremely user-friendly. But if you need a crash course, there are plenty of senior tech guides online to help you out. These guides are best suited for beginners but even tech-savvy seniors may find some useful tips by reading through them.
Techradar notes there are also certain gadgets that have been designed with seniors in mind, including many of the latest tablets. So if you're uncertain about using tech to connect with your family members and community, consider one of these simple and straightforward options.
Tech Can Provide Spiritual Connection
You know you need connection in order to thrive in your golden years, but spiritual health is also so important. Finding a connection to God and practicing gratitude can help aging adults lead more fulfilling and more peaceful lives.
Millions of people, including many senior citizens, are now attending religious services via online communication apps like Zoom. Tech is also allowing individuals to form even deeper bonds with members of their spiritual community, which helps them feel safe and supported during these tumultuous times.
If you are a senior who is looking for more peace and spiritual well-being during this crisis, also know that you can use your smartphone to connect with apps that promote mindfulness and meditation. These apps break down mindfulness, meditation and gratitude practices into shorter time frames to help you get started, with guidance and reminders every step of the way. If you're in need of a new smartphone so you can download and run these apps without issue, look out for seasonal deals and special offers to save.
Health and Safety Should Come First
There's no denying that seniors, and all people really, need connection in order to feel complete and content. That's why connection is at the heart of the very definition of the word "community," whether the term applies to social and local resources or senior living options. While technology can provide a much-needed sense of community for older adults who feel isolated during the pandemic, it's also important to recognize some of the risks that can come with being online.
For example, seniors are especially vulnerable to identity theft and other online scams. In fact, many professional identity theft rings set up email and online hoaxes to specifically target older members of the online community. So before you start using technology to connect with loved ones, be sure to protect yourself with basic digital security tips and tricks. Proper password use and knowing what to look for in underhanded emails can help you avoid becoming the next victim of a cyber scoundrel.
In addition to thinking about how being online can impact your finances, AARP points out that using screens can adversely affect your health. The good news is that if you're using your devices to talk with loved ones or find old friends via social media, the quality of the time you spend using tech should outweigh any potential drawbacks. You'll just want to put down your screens well ahead of bedtime to avoid any disruptions to your sleep.
Keeping a physical distance between you and others is essential for your health and safety right now, but that doesn't mean you have to have distance in your relationships. You can use tech to reconnect with your loved ones and stay connected, no matter how many miles or minutes are between you. So take care of yourself by using tech to protect yourself from isolation.
Photo Credit: Pexels